I thought I would share this little story about copyright, because it's a really important topic. I created this piece of artwork following a fantastic swim with the Dales Dippers in Yorkshire. The inspiration came from the fact the beautiful peaty water is the colour of black tea, and these wonderful chaps who are big fans of the 'proper cuppa', even wear swimming shorts made from the company's own tea towels. And they really do drink the stuff while swimming too… Anyway, having sold a few prints, I suddenly thought to myself, I wonder if Yorkshire Tea are ok with me...
---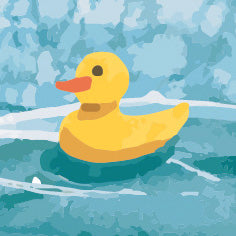 If you are wondering why every piece of my artwork features a rubber duck hiding somewhere in it, well, let me introduce you...
---
Well, when it all starts happening, it happens really quickly. When I was invited to exhibit at the Stephen Joseph Theatre in Scarborough in 2019, I didn't fully appreciate what a great opportunity it would be, but I said yes immediately. I had a year to prepare for it, but I was just at the beginning of my art journey, so I didn't really realise the significance of it all. I knew the theatre was famous – lets face it, even I had heard of it, so it must be. At that time I had just started painting the view...